As the construction industry continues to grow, many construction companies are looking for ways to become more efficient and profitable. One way to do this is by hiring a fractional CFO—a part-time Chief Financial Officer who can help manage day-to-day finances and provide strategic insight into long-term planning. Hiring a fractional CFO gives construction companies access to the same level of expertise they would get from employing a full-time CFO but with much less overhead cost. In this blog post, we'll look at why it makes sense for construction companies to consider hiring a fractional CFO.
---

A Roadmap to Hiring a Fractional CFO
A fractional construction Chief Financial Officer provides financial, reporting, and strategic support to your company on a part-time, subscription, or short-term contract basis. Ascent Consulting is here to provide fractional CFO services when your company is ready for additional financial expertise but isn't ready for a full-time CFO.
Why and How to Hire a CFO
The construction sector requires a specific type of background in accounting and financial management. A clear fractional CFO job description is the first step in hiring a CFO. Project accounting, job costing, progress billings, and budget forecasting are some of the specialized financial tasks that construction companies need to master in order to successfully navigate their projects and meet the requirements of their customers. An experienced construction CFO can make all the difference to the long-term financial success of your business. A fractional CFO can do the same thing while giving your company the opportunity to leverage the expertise of a CFO-level individual without incurring the high costs or overhead associated with a full-time employee.
---
Your company may require a fractional CFO for the following reasons:
Oversee and review the monthly close process, financial statement accuracy, and all other recurring financial processes such as A/P, A/R, job costing, retainage, and payroll.
Advise on strategic decisions related to future growth, raising capital, expansion, or acquisition; or analyze business operations from a financial viewpoint such as overhead, inventory, cash flow, or profit margins.
Manage special projects such as accounting system implementations, financial statement audits, team assessments, and insurance package appraisals.

Outsourced CFO services can provide many benefits to businesses of all sizes. For small and medium-sized enterprises, outsourced CFOs can provide expertise in financial analysis, budgeting, forecasting, cash management, and more. They can also help develop strategies for making sound investments and mitigating risks.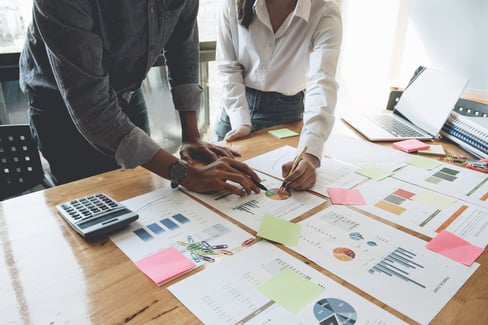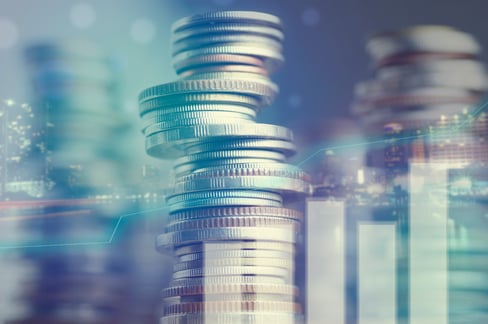 ---
Understanding Fractional Work
You may be asking: "What does a fractional CFO do?" As you continue to read this section, it will explain in detail how this all works and will benefit your company. Although revenue size is an arbitrary differentiation for companies that have fractionated CFOs, there is no guarantee that this is the only factor that determines their business' future success. Identifying the types of duties of CFOs also helps to determine if they're required to take on fractional or full-time jobs. For instance, companies with no growth rate will probably never need an investor or bank underwriter as they lack significant funding requirements. A fractional CFO might be the most appropriate solution.
Why You Need to Hire a CFO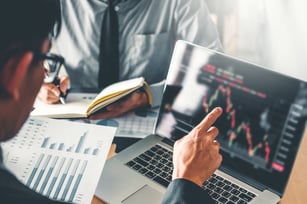 A CFO's role is to be a resource and a second set of eyes for the financial leadership and accounting team to ensure that all financial data is being properly reported and delivered to stakeholders. He or she will work with a company's existing team of bookkeepers, accountants, and controllers to oversee and review daily, weekly, and monthly accounting tasks. A CFO may also function as a liaison with a company's CPA or external accounting firm to ensure that end-of-year financial statements and audits are completed accurately and on time. Another example would be A fractional CFO can work with the telecommunications company's executive team to create and monitor budgets, identify potential areas for cost savings, and develop strategic plans that will ensure long-term profitability. A CFO has the experience and the vision to assist a company's management team in strategic planning and implementing short-term and long-term goals according to the company's financial growth strategy and financial situation. He or she will also look at an existing strategy to advise on its financial viability and to determine any required changes to those goals for maximizing success.
A CFO may be called to be the point person when a special project comes along that needs specific and focused attention. He or she will spend the appropriate time to understand the details and requirements of the project and then design a resource plan for the project's execution and completion.
Fractional versus Full-Time
Initially, if you want to know more about hiring a CFO, you need to understand the nature of their job. The CFO is a senior financial leader who is forward-looking and orientated.
Identifying the Need for a Full-Time CFO
When deciding on the best way to bring on a CFO, it is important to take into account CFO consulting rates and outsourced CFO costs. Depending on the size of your business and the complexity of your financial situation, these costs can vary greatly. Understanding what you need from a CFO and having an accurate budget in place will help make sure that you get the most for your money. Companies with recurring high-value financial requirements need CFOs. Additionally, organizations with a leadership team lacking knowledge and skills in analyzing financial information need a Chief Financial Officer. In this capacity, the CFO assists the CEO by providing answers to questions on a current or future state.


---
How many hours does a fractional CFO work?
Few small businesses can justify the financial investment of a full-time CFO. Luckily, there is an affordable and viable alternative: fractional CFOs. Fractional arrangements are ideal because they offer the same level of expertise as a full-time resource without breaking your budget. Plus, these contracts have no long-term commitments; you may continue using this service until it's necessary to hire someone on staff! For fractional services, you can negotiate monthly retainers between $5,000 and $8,000 a month depending on complexity. The expense of a fractional CFO varies depending on the hours worked in your firm and the size of your CFO.
Improve Decision-Making Process
By retaining the fractional services of a CFO, a business owner can improve their decision-making capabilities. With access to reliable financial data and insights, business owners are better equipped to make decisions around financing options, future planning, expansion or downsizing projects, entering new markets or developing new products--all while reducing costly mistakes and mitigating risks associated with loss.
Improved Clarity
Utilizing precise and up-to-date financial management reports, projections, budgets, and cost models will provide your business with improved clarity. Not only does this bolster strategic insight for proactive decision making but also allows you to further optimize efficiency while decreasing costs; ultimately resulting in increased revenue streams and cash flow.
Precise Reporting
Implementing effective internal controls can offer numerous advantages, such as precise financial reporting, better control of corporate assets, and a minimized risk for potential fraud.
Flexibility
Ultimately, the beauty of a fractional CFO is flexibility; they can adjust to any organization's needs and offer higher levels of support during critical times that suit your specific timeline. Once those goals have been achieved, they will revert back to more consistent assistance.
On-Site Support
We offer comprehensive services onsite so that meetings and critical tasks can be easily attended to. Our CFOs become a part of the company team, providing their valuable insight as if they are already an active member of your staff. When not physically present for any reason, we remain 'virtually' accessible through modern communication tools available at our disposal - making sure no need or query goes unanswered! A highly experienced CFO is an essential asset for any company, as they possess the unique skill set and industry knowledge required to resolve complex financial issues in a timely manner. The expertise of career CFOs goes far beyond that of CPAs; their comprehensive understanding of various environments allows them to identify problems quickly and apply effective solutions with best practices.
Improve Productivity
By hiring a CFO to manage the financial and administrative functions of your business, you can greatly improve productivity. This will give you more time to focus on strategic elements that enhance the value of your company. Your CFO will be an expert in finance and accounting, as well as be able to handle human resources, facilities management, insurance policy administration, legal matters, and compliance obligations - all while maintaining positive relationships with stakeholders!
Stakeholder Confidence
Having a professional CFO in your corner significantly increases the confidence of stakeholders like investors, lenders, and creditors. This can be even more advantageous when courting outside investment opportunities, securing debt financing, or preparing to sell your company.
Summary
In summary, a fractional CFO brings all the advantages of having a full-time resource at only a fraction of the cost. With an agreed upon number of hours and on-going support, they provide many benefits such as improved reporting, decision making, financial management, and controls which will bring better insight into planning and forecasting. Nonetheless, probably the greatest benefit is that CEOs can rely on their CFO to take care of administrative financial tasks while they focus their efforts on other critical business aspects.