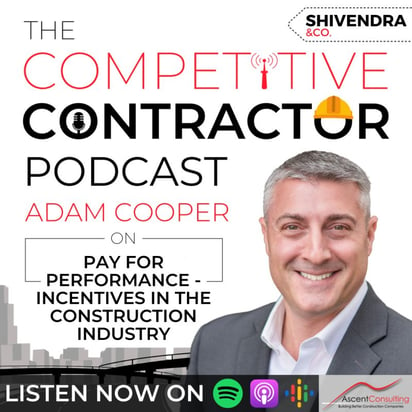 Listen Now
In this episode of The Competitive Contractor Podcast, Hosted by Shivendra Kumar, Adam discusses the topic of incentives in the construction industry.
Incentives and paying staff for performance is a topic many construction businesses talk about and consider, but struggle getting off the ground. While it looks simple on the surface, there are a lot of dimensions ranging from financial to psychological.
Does paying for performance really work? How do we move to an incentivized pay structure and how we ensure that it is successful? Listen to the podcast and find out what our very own Adam Cooper has to say on the matter. Click below to listen on Apple, Google, and Spotify
Ready to learn more about setting up Incentive programs?
---
If you're ready to start working on your business, let's talk!
Ascent Consulting's mission is to Build Better Construction Companies.
We are committed to delivering impressive results in the areas of
profitability, performance and growth.