During the COVID-19 crisis, work on active construction projects has generally been able to continue, albeit with some modified work procedures for personal safety. Other industries have experienced much more drastic changes. Shutdowns and modified ways of doing business have created ripple effects in the economy that we will feel in the Construction industry for years to come. Because we build for these other industries, we should take note of how they respond.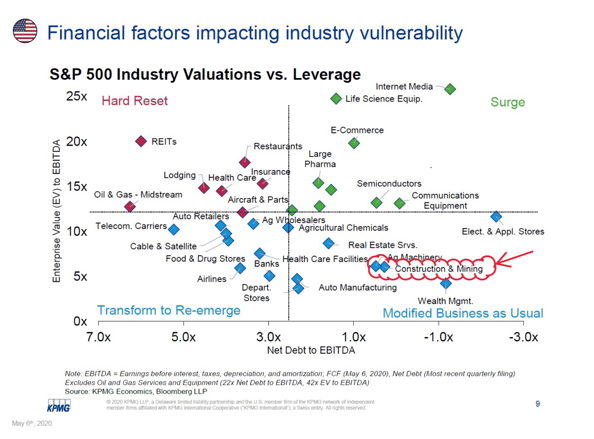 The above graph from KPMG displays the impact of COVID-19 on major industries in a great visual way.
KPMG has divided the impact into 4 quadrants:
Construction business leaders are making adjustments to their Strategic Business Plans to account for the market disruption brought on by COVID-19. Rapid disruption is uncomfortable and challenging, but it can also bring opportunity.
In a recent blog article, we discussed how to approach market diversification to make your construction business more resilient to market fluctuations. KPMG's infographic could be a useful tool to help you analyze where construction activity will remain active in the coming years in order to refine your market strategy.
Now is the time to work on your business. We have helped our clients in a number of ways to improve their construction business performance. We can help you find ways to capitalize on the COVID-19 market disruption.
---
If you're ready to start working on your business, let's talk!
Ascent Consulting's mission is to Build Better Construction Companies.
We are committed to delivering impressive results in the areas of
profitability, performance and growth.