There is a lot of buzz in the construction industry these days about Procore. As Certified Procore Consultants (we currently have four of our team certified), we receive calls every week from construction companies that are thinking about getting Procore, companies that recently purchased Procore and are looking for help getting their team trained to use it properly, and companies that have been on Procore for years and are ready to step into more advanced functionality.
Let me give you some quick background before we jump in. Ascent Consulting is a boutique business operations, management, and technology consulting company that works exclusively with construction companies. We offer a variety of services to our clients, one of which is assistance with Procore, a construction management software. We have been working with construction companies that use Procore for over five years, I was a Procore end-user before I started Ascent in 2014, and I have been a certified Procore consultant since October 2020.
Also, our disclaimer:
Ascent Consulting is not financially compensated by any construction management or accounting software companies and strives to remain unbiased in our reviews, assessments, and recommendations for software solutions for our clients.
Procore Is NOT For Everyone
For those of you who are not familiar with Procore, I'll provide you with some industry (and personal) perspectives on what is Procore. Procore is a construction project management software platform that allows for unlimited users. It has different modules and tools that provide a variety of functionalities that are used to manage construction projects. A quick breakdown would be:
Core tools (Directory, Documents, Tasks)

Project Management (Drawings, RFIs, daily reports, photos, etc.)

Quality and Safety (Inspections, Punchlist)

Resource Management (crew time, productivity, T&M tickets)

Financial Management (Budget, Change Orders, Commitments)

Invoice Management (Billing, Invoice workflows)
To learn more about the specific tools in each module, visit www.procore.com and click on Products, like this:
Procore also offers some additional modules such as bidding, estimating, analytics, design coordination, etc., but for this article, we're going to focus on the list above.
At this point, you may already be thinking "Is Procore right for my company?" or "How much does Procore cost?". The answer is "It depends". To be frank, Procore is a pricey solution. Their pricing model is based on annual contract revenue that will be managed in Procore to obtain a Procore license and the number of modules you 'turn on'. Entry-level Procore pricing can start upwards of $10k/year, and large companies often spend over $80k/year in Procore licensing costs.
Procore is a sizable investment for any contractor and may often be the single largest technology investment for the entire company. However, if you get the right feature set, configure it properly, and train your people to use it effectively, it can be well worth the investment many times over.
In my experience, there are a few types of companies that are not a good fit for Procore or have other software solutions available that are often a better fit and/or are less expensive.
A few indicators that Procore may not be the best fit for your company:
Residential general contractors managing under $10MM/year

Residential trade contractors in general

Commercial MEP contractors managing less than $5MM/year

Small commercial trade contractors (painting, millwork, flooring, tile, etc.)

Companies that perform a lot of Service and Maintenance work (not project-based)
Conversely, here are a few indicators that Procore may be a good fit for your company:
Commercial general contractors managing more than $10MM/year

Commercial MEP contractors managing more than $5M/year

Commercial general trade contractors managing more than $10M/year

Companies that perform a high volume of contract work (project-based)




A few other tidbits for your consideration:
Procore is optimized for General Contractors but can work very well for trade contractors.

Trade contractors and Owners require some adjustment of terminology and processes.

Procore works best when all stakeholders are in the Procore environment.

Trade contractors who work with GCs using Procore will not be able to optimize the workflows or share data directly between the two systems. Each will have its own instance of Procore. Subcontractors will still need to log into the GC's system to upload submittals, access drawings, submit pay applications, etc.
Ascent Consulting: Your Certified Procore Experts
How Can Procore Help My Company?
Ok, let's get into some of the details. Remember the list above of the six main modules in Procore? You may be wondering "Which of those modules do I need?"
Every account comes with the Core tools, but these are just the basics and Procore is not very useful until you start adding some of the other modules. Based on the type of construction company you operate, the type of work you perform, your accounting system, and the number of people in your organization, you may want some or all of the other modules.
As far as basic construction project management goes, Procore's Project Management module is one of the best solutions on the market. When set up properly it's a great tool for sharing information between your office and field staff, plus Architects, Owners, and Subcontractors. All of your standard documentation (ex: drawings and specifications) and communications (ex: submittals and RFIs) can be managed through this module.
Adding in the Quality and Safety module gives you even more features for managing field activities and reporting information back to the office. In general, this module is more suited to a general contractor than a trade contractor as the GC typically manages the punch list, records safety incidents and violations, and owns the OPS (overall project schedule).
Alternately, the Resource Management module is generally more suited to trade contractors who have employees on the site installing work (self-performing), either individually or as part of a crew. This module gives you the ability to create individual or crew timesheets, generate T&M tickets, and even track the production of your workers.
These tools above are often the only tools that a contractor needs to get their money's worth out of Procore.
Before we get into the Financials and Invoice Management tools, I want to talk a little about Procore as a company, and about the types of companies that use Procore successfully (in our experience).
View Our Profile on the Procore App Marketplace
At its heart, Procore is a software company. It was founded by, and still employees, construction industry professionals who continue to drive innovation and expanded functionality for the platform. However, many of the frontline workers our clients encounter are more Procore software experts and are often not intimately familiar or experienced with the many different ways that construction companies can operate. They are skilled at solving technical issues that customers may run into, such as permissions, settings, and advanced functionalities, but they often lack the time and expertise to optimize Procore for each individual company's needs, workforce, project types, billing models, etc. They are excellent at implementing and training people on the basics of how to use their software and have an extensive collection of training videos and knowledge base articles (which our team uses frequently to research and resolve issues for our clients).
Often, Ascent is hired to customize and adapt Procore to a client's unique needs, systems, processes, and people. While Procore is a fairly rigid system overall (the way it works is the way it works), it can be adapted and configured in different ways to be useful to many different types of construction companies. Much like a flat head screwdriver can turn both flathead and crosshead screws, Procore can be used in various ways without altering its core functionalities or adding expensive customizations by the development team at Procore.
Procore is aware of their customers' desires to 'tinker' with Procore to make it work for their unique businesses, which is why they have been building out their Certified Consultants network. By training and certifying Procore consultants (like the team at Ascent), their clients can get the extra support they need from construction industry professionals who will take the time to get to know them better, help adapt Procore to their unique business, and train their employees for success.
As I mentioned in the beginning, we get a lot of calls about Procore. The most common type of call we get is from companies that have been using Procore for a year or two and like the platform, but don't feel that they are using it fully or getting a full return on their investment. They have tried taking some additional training from Procore directly and using the certifications program to learn how to use it more effectively, but they just don't seem to be making the progress they want.
They just don't have the time, patience, or discipline to do it on their own anymore and are looking for an outside party to come in and help them get it done.
The other common call we get is from companies that have recently decided to connect Procore to their accounting system and turn on the Project Financials module. So, let's talk a little bit about Project Financials and how it works.
Procore Financials – Advanced Functionality
In Procore, you can effectively manage a project's entire financial life cycle. You can enter a budget, create a schedule of values for billing (it comes with the AIA G702/703 format), create commitments (purchase orders and subcontracts), record payments, and manage the entire change order process. While this can be done without connecting Procore to an accounting system, the detailed project financials will only exist in Procore, and credit/debit transactions will have to be manually entered into the actual accounting system so that accurate company financials can be maintained.
For example, when connected properly to QuickBooks, a Purchase Order (PO) or Subcontract may be created in Procore and sent to your vendor or subcontractor. This Commitment will also push into QB and create a matching Purchase Order in that system (note: QuickBooks uses Purchase Orders for both POs and Subcontract commitments).
Read More: Free Construction Template Downloads
When you add in the Invoicing module, you can route subcontractor-pay apps and vendor invoices electronically through Procore to various approvers, such as the Project Manager, eliminating the need for those paper "AP folders" full of invoices needing approval that have been commonplace for decades. If they approve the invoice in Procore, then this is pushed in QuickBooks as a Bill that is ready to be paid. Once the invoice is paid in QuickBooks, it will synch that payment back into Procore and show as 'Actual Cost' or 'Cost to Date' in Procore's Budget module.
A few words of caution – the level of integration between Procore and various accounting systems varies widely. Some accounting systems are very open to Procore (Sage 100, Sage 300 CRE, and QuickBooks Contractor (Desktop version) are probably at the top of that list), while others offer very little data transfer between them. These limitations are mainly on the accounting side – not every accounting software provider wants to let Procore talk to their system. They may have a competing solution, or just be a closed system. You can learn more about the specific level of integration available for your accounting system on Procore's website.
Read More: Purchasing Methodologies (Centralized vs. Project Level)
Be sure to look for the Integration Map for your accounting system, it should look like this example for QuickBooks: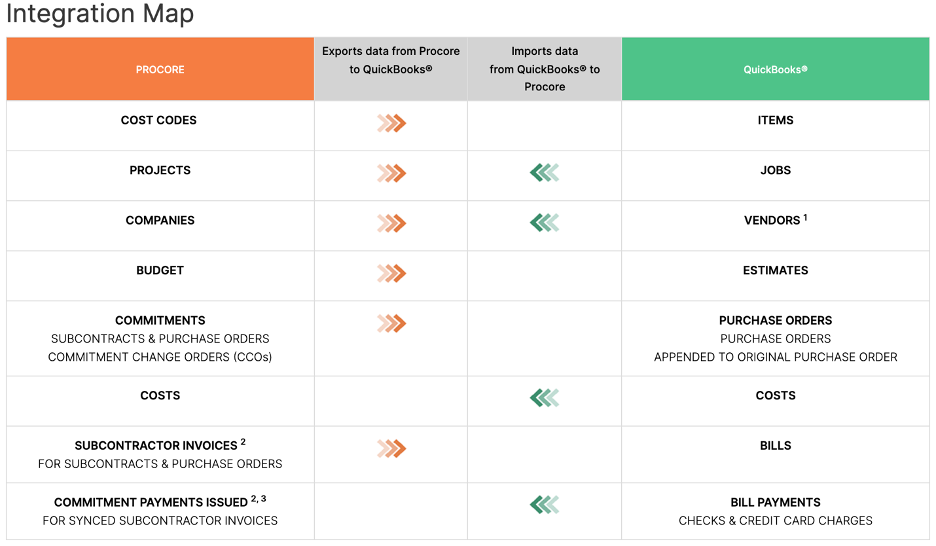 Although we've just scratched the surface, I hope this article provides you with some valuable background information about how Procore may benefit your company. While it's not for everyone, Procore is a powerful tool that helps thousands of construction companies become more efficient and organized.
If you're still not sure if Procore is right for your company or want to learn how you can maximize your investment in Procore, schedule a free consultation with the team at Ascent Consulting.
Book Your Free Procore Consultation Today
---
If you're ready to start working on your business, let's talk!
Ascent Consulting's mission is to Build Better Construction Companies.
We are committed to delivering impressive results in the areas of
profitability, performance, and growth.